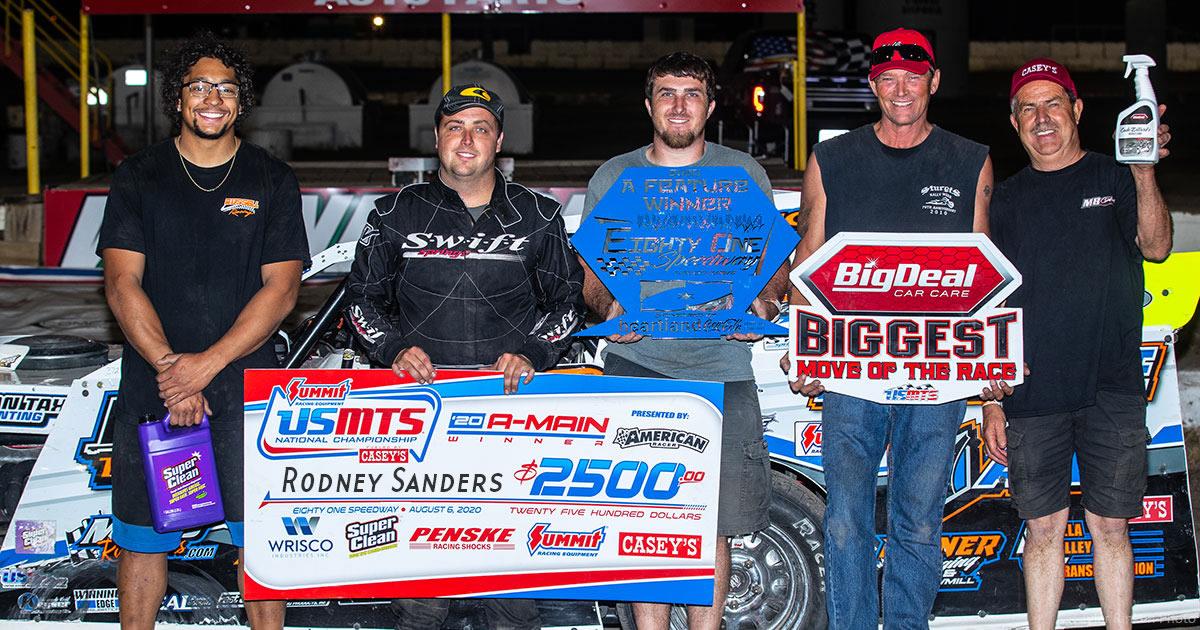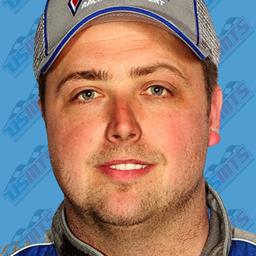 ---
Sanders sneaks by Ramirez in thriller at 81 Speedway
Rodney Sanders picked up his 14th win of 2020 on Thursday night in his Wichita Tank Racing No. 20 Kenny's Tile/ ARMI Contractors/ MB Customs/ Hatfield Racing Engine Modified. (Tyler Rinken photo)
The Texas racer topped the United States Modified Touring Series (UMSTS) field in thrilling fashion at 81 Speedway in Park City, Kans.
Sanders went into battle against a stout field of 42 UMSTS entries at 81 Speedway. Charging forward five spots in his heat race, Sanders scored a third place finish, which positioned him sixth on the starting grid for the A-Main.
With a three-car battle taking place up front in the first half of the feature, Rodney began closing the distance on race-leader Dereck Ramirez in the final five circuits. After sliding ahead of Ramirez for the lead on lap 37, Dereck edged ahead of Sanders to lead the next two circuits.
With the pair side-by-side on the final lap, Sanders took the checkers 0.249 seconds ahead of Ramirez to secure his 14th win of the season. Ramirez was second, with Terry Phillips, Jason Hughes, and Zack VanderBeek completing the Top-5. He earned a $2,500 payday for late-race triumph.
"Man, Dereck was really good tonight and I was just trying to keep it straight off the corner because if I hit it straight off the bottom there was a lot of traction," said Sanders as he celebrated his series-best sixth win at the 81 Speedway. "It was a lot of fun. Dereck's probably the cleanest driver there is out there I feel like, so I can always race him clean and we always race each other hard but it seems like we never touch. That was a lot of fun and it was a hell of a night."
On Friday afternoon at Humboldt (Kans.) Speedway for the 14th annual Summer Fling, Rodney logged a fifth-place finish in his heat race, sending him to the B-Main. Coming in third, Sanders locked into the 17th-starting position for the $3,000-to-win A-Main. Gaining three spots in the 40-lap affair, Rodney logged a 14th place outing.
The following night at Lucas Oil Speedway in Wheatland, Mo., Sanders recorded a seventh-place finish in his heat before placing 13th in his B-Main. Relying on a USMTS points provisional to the 40-lap Slick Mist Show-Me Shootout, Rodney charged forward 19 spots to register a sixth-place finish.
Rodney sits 104 markers ahead of Dereck Ramirez in the latest USMTS National Championship point standings. For more results from these events, please visit www.USMTS.com.
Back to News