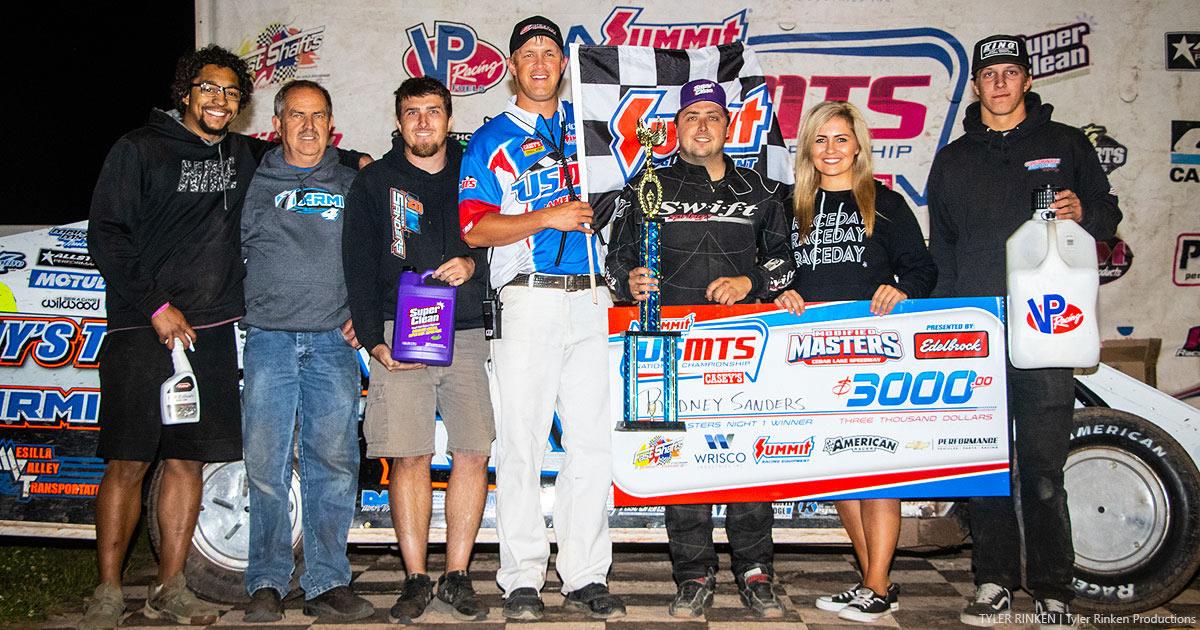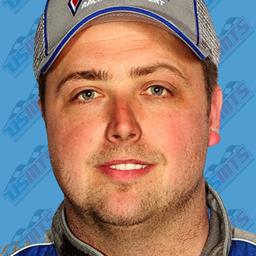 ---
Rodney Sanders goes 2-for-3 in Masters at Cedar Lake
Rodney Sanders continued his recent hot-streak over the weekend at Cedar Lake Speedway in New Richmond, Wisconsin.
Sanders drove his Wichita Tank Racing No. 20 Kenny's Tile/ ARMI Contractors/ MB Customs/ Hatfield Racing Engine Modified to a pair of victories and a third-place finish in the United States Modified Touring Series (USMTS)-sanctioned 21st Annual Masters presented by Allstar Performance. (Tyler Rinken photos)
Rodney was one of 59 USMTS entries on hand at Cedar Lake Speedway on Thursday night. Starting on the pole of his heat race, Sanders streaked to an 8-lap heat race victory, which positioned him fourth on the starting grid for the main event.
Sliding ahead of Jimmy Mars for the lead on the opening lap, Rodney led wire-to-wire in the 30-lap affair to pick up his 10th win of the season and a $3,000 payday. Winning by more than a four-second margin, Sanders topped Dustin Sorensen, Jimmy Mars, Michael Truscott, and Jason Hughes at the line.
"It's been pretty good," Sanders said. "I've felt like I screwed it up the last few races, but it was good at Tri-State and we were good tonight."
"I knew it was going to be tough," Sanders added. "Dustin's been really good and Jimmy's always good. I didn't know really where to be, but we were good around the bottom. I saw a little bit of a lead there and I was just trying to ride—on the board I saw I had like a four-second lead."
For another round of preliminary action on Friday, Sanders jumped up four spots in his heat to place second behind Michael Truscott. Earning the third-starting position for the A-Main, Rodney was unable to gain any momentum early after a handful of cautions were displayed.
Making a late-race charge, Sanders overtook Terry Phillips for the lead on lap 35 and held the top spot for the final five laps, scoring his 11th win of the season. Collecting a $5,000 paycheck, Rodney topped Phillips, Jake O'Neil, Dereck Ramirez, and Zack VanderBeek at the line.
"I think (Phillips) had a little better car but it started rubbering up there on the bottom and I kind of found it before he did," Sanders said. "We had a good car before them yellows—I just couldn't really take off on them yellows—but once we had a good green flag run the car was good."
"We've had a good car, had some good luck on draws and everything too. We're just trying to be there at the end."
On Saturday evening for the finale of the 21st Annual Masters, Rodney posted a sixth-place finish in his heat, transferring him into the B-Main. Coming in third, Sanders locked into the 20th-starting position for the $10,000-to-win finale.
Wheeling his way forward into a podium spot, Rodney was unable to track down race-winner Terry Phillips but landed a third-place finish behind Phillips and Shane Sabraski, with Cade Dillard and Dereck Ramirez rounding out the Top-5.
Rodney has strengthened his lead over Dereck Ramirez atop the latest USMTS National Championship point standings. For more results from these events, please visit www.USMTS.com.
Article Media
Back to News