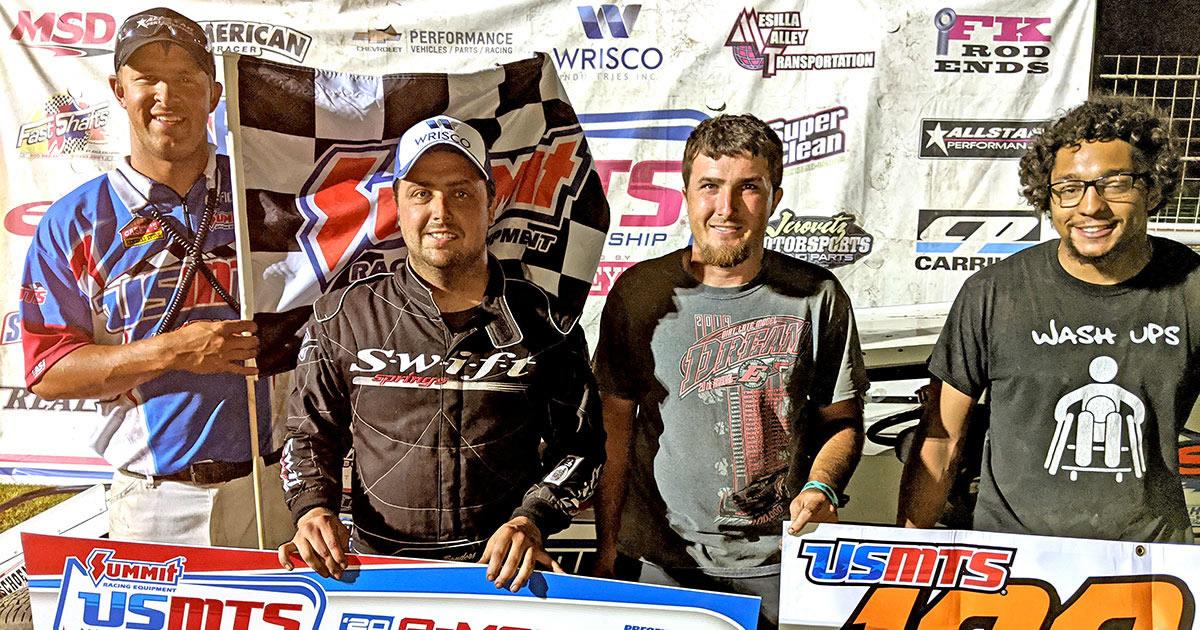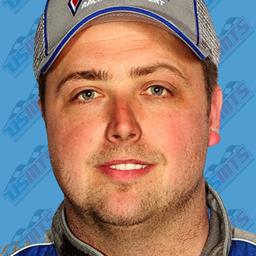 ---
Rodney Sanders Claims 100 USMTS Win at Tri-State Speedway
Rodney Sanders reached another milestone over the weekend in his Wichita Tank Racing No. 20 Kenny's Tile/ ARMI Contractors/ MB Customs/ Hatfield Racing Engine Modified.
The 30-year-old three-time United States Modified Touring Series (USMTS) National Champion lead wire-to-wire on Saturday in the 7th Annual USMTS Juggernaut presented by Drive4JRT.com at Tri-State Speedway in Pocola, Okla. With the triumph, Sanders officially registered his 100th career USMTS victory.
"It seemed like we were never going to get this one," Sanders said as he and his crew celebrated win No. 100. "We've had good opportunities the last few nights with good draws and, man, I just totally screwed the car up."
"This is something that's kind of hard to put into perspective. There's only a few guys that's done that so that's pretty cool and now we're just gonna keep going."
To kickstart the weekend, Sanders traveled to Lucas Oil Speedway (Wheatland, Mo.) for the USMTS-sanctioned Wednesday Night Madness. Drawing 43 cars for the four-race weekend opener, Sanders jumped up six spots in his heat race to register a third-place finish. Earning the eighth-starting position for the opening night feature, Rodney improved one spot in the 40-lapper to place seventh.
The following night at 81 Speedway (Park City, Kans.) for the ninth annual Park City Sunflower State Showdown, Rodney locked his spot into the $2,500-to-win A-Main with an 8-lap heat race victory. Falling three spots in the 40-lap affair, Sanders posted a fifth place finish behind Ryan Gustin, Tanner Mullens, Zack VanderBeek, and Jake O'Neil.
For the 7th Annual Hummer Hustle at Humboldt (Kans.) Speedway on Friday evening, Sanders followed up a third place finish in his heat with a 12-lap consolation victory. With $3,000 on the line in the feature, Rodney advanced through the field seven spots to record a sixth-place finish.
On Saturday night at Tri-State Speedway (Pocola, Okla.), Rodney jumped up three spots in his 8-lap heat to score a runner-up finish behind Hunter Marriott. Taking command of the lead early, Sanders led flag-to-flag in the feature to capture his ninth overall win of the season. He took the checkered flag ahead of Terry Phillips, Tanner Mullens, Jake O'Neil, and Zack VanderBeek. (Tyler Rinken photo)
In addition to getting the 100-win monkey off his back, the $3,000 winner's share of the prize money was a welcome addition to his earnings.
"This has been probably one of the roughest years I've ever had but luckily I have good people that keep sticking behind me. It's not an open checkbook by no means. Everybody pitches in where they can and I'm very appreciative of what everyone does."
Rodney holds an eight point lead over Dereck Ramirez atop the latest USMTS National Championship point standings. For more results from these events, please visit www.USMTS.com.
Back to News